Product Overview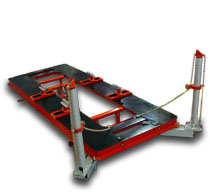 Blackhawk builds the world's most productive collision repair equipment. Building world-class relationships with our customers and industry partners results in unparalleled solutions for today's collision repair facilities. Regardless of your size we understand your needs and our equipment is designed to meet those needs. Kansas Jack has a history of innovation in equipment design. Equipment specifically designed to enhance productivity and assure that your repairs are done right the first time every time thus assuring the shop's maximum profitability.

Click on one of the section titles to learn more about the Power-Pro BT Series Frame Straightening Racks.
Features
---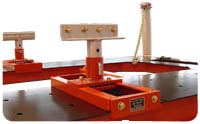 Positive Anchoring with Ease
The three-way adjustable unibody pinchweld clamps provide for infinite positioning to properly anchor the vehicle. The "drive-over" underbody clamp bases may remain attached to the platform surface. Optional specialty anchoring clamps are available for cars and trucks.
---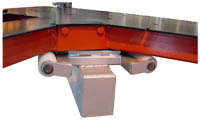 Towers with Bearings (Power-Pro BT)
The towers can be moved effortlessly 360° around the frame rack, using smooth roller bearings to assist the operator.
---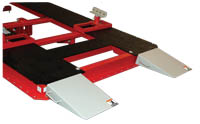 Quick Loading
The Power-Pro's removable drive-on ramps coupled with the platform hydraulic tilt feature facilitates easy drive on vehicle loading.
---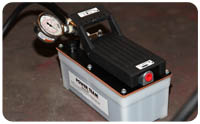 Air Hydraulic Pumps
Power-Pro BT: Fluid filled gauges provide for reliable pressure readings at the hook.
(Three air hydraulic foot pumps come standard)
---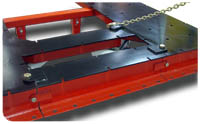 Front and Rear Removable Cross-Members
Perform a front-end pull removing mash, and then remove the cross-member to gain unrestricted access to the vehicle.
---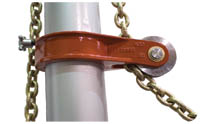 Infinite Positioning of Pull Collars
Variable-position pull collars provide for unlimited positioning for the correct alignment with the pull being made.
---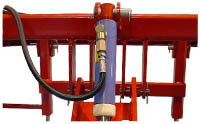 Lifting Power
10,000 lb lifting capacity provides you with more than enough strength to pick-up the vehicles you will encounter.
---
Available Configurations
| | Part Number | Number of Towers | Shipping Weight |
| --- | --- | --- | --- |
| Power-Pro 18 BT | BH9011011 | 2 | 4,800 lbs (2,177 kg) |
| Power-Pro 20 BT | BH9011002 | 2 | 6,800 lbs (3,084 kg) |
| Power-Pro 22 BT | BH9011004 | 2 | 7,300 lbs (3,311 kg) |
Specifications
| | Power-Pro 18 BT | Power-Pro 20 BT | Power-Pro 22 BT |
| --- | --- | --- | --- |
| Rack Length: | 18' (549 cm) | 20' (607 cm) | 22' (671 cm) |
| Rack Max. Length (with Towers): | 23' 9" (724 cm) | 25' 10" (787 cm) | 27' 10" (848 cm) |
| Width of Rack: | 84" (213 cm) | 92" (234 cm) | 92" (234 cm) |
| Width of Rack (with Towers): | 13' 4" (406 cm) | 14' (427 cm) | 14' (427 cm) |
| Width of Treadway: | 24" (61 cm) | 28" (71 cm) | 28" (71 cm) |
| Center Opening Width: | 36" (91 cm) | 36" (91 cm) | 36" (91 cm) |
| Overall Height (Towers Down): | 7' 4.5" (225 cm) | 7' 4.5" (225 cm) | 7' 4.5" (225 cm) |
| Overall Height (Towers Extended): | 8' 2.5" (250 cm) | 8' 2.5" (250 cm) | 8' 2.5" (250 cm) |
| Tie-Downs: | 100 | 106 | 112 |
| Down Pulls: | 96 | 104 | 112 |
| Power Requirements: | Air | Air | Air |
| Working Height: | 22" (671 cm) | 22" (671 cm) | 22" (671 cm) |